UNDERWEAR DESTOCK
Courtot empties his drawers before September !
Some lucky ones already know and practice the comfort of Courtot underwear.
Our current offer: For 70 € you can choose a shorts in the fabric you want, to your measurements (waist, length of the fly and length of the boxer shorts). The belt has only a dozen centimeters of elastic in the back for optimal comfort and two front buttons to modulate the ease according to your needs of the day.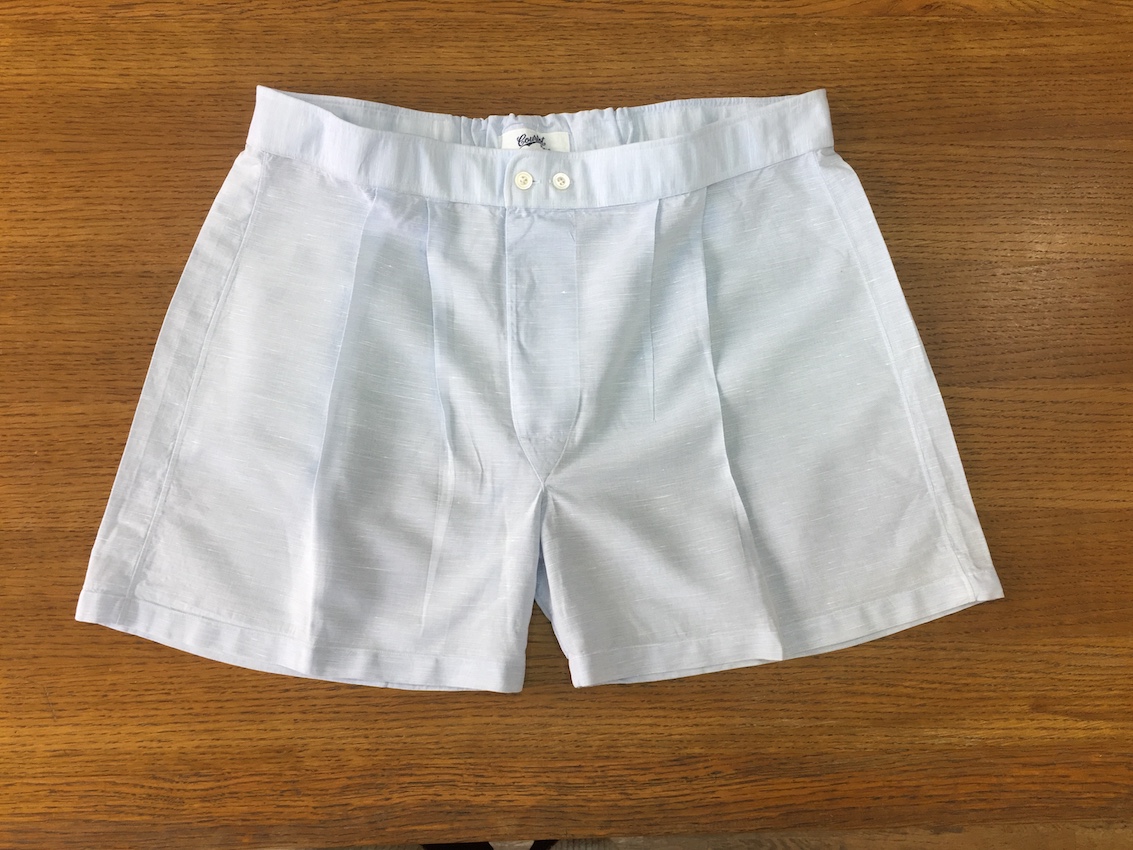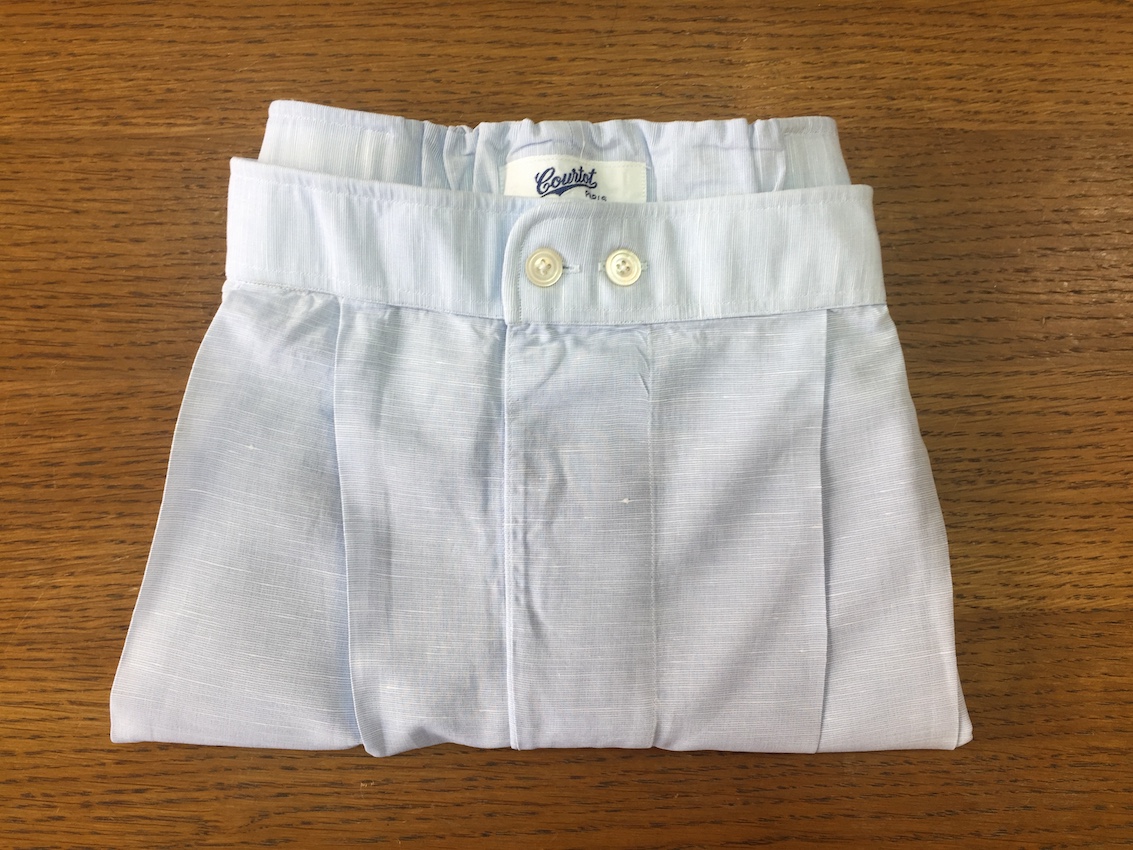 Exclusively and for a limited time,
The Maison Courtot offers the shorts in stock for 7 € (+ 17€ for shipping).
It is only a single piece (each with measurements specified above the picture).
You can order them via our site by clicking >> here <<, or by phone, or by email: contactcourtot@gmail.com.
Do not forget to specify your contact details and the name of your fetish underwear!
Forward for presentations :
Jules


JULES
Hip circumference: 108 cm - Fly length: 26cm - Overall length: 37cm


Gabriel


GABRIEL
Hip circumference: 105 cm - Fly length: 25cm - Overall length: 37cm


Hugo


HUGO
Hip circumference: 106 cm - Fly length: 24cm - Overall length: 36cm


Axel


AXEL
Hip circumference: 105 cm - Fly length: 30cm - Overall length: 40cm


Tom


TOM
Hip circumference: 106 cm - Fly length: 25cm - Overall length: 36cm


Noé


NOE
Hip circumference: 106 cm - Fly length: 25cm - Overall length: 35cm


Gabin


GABIN
Hip circumference: 105 cm - Fly length: 25cm - Overall length: 37cm


Paul


PAUL
Hip circumference: 105 cm - Fly length: 23,5cm - Overall length: 36cm


Baptiste


BAPTISTE
Hip circumference: 104 cm - Fly length: 24cm - Overall length: 41cm


Aaron


AARON
Hip circumference: 103 cm - Fly length: 31cm - Overall length: 40cm


Nolan


NOLAN
Hip circumference: 105 cm - Fly length: 25cm - Overall length: 39cm


Enzo


ENZO
Hip circumference: 102 cm - Fly length: 25cm - Overall length: 36cm


Martin


MARTIN
Hip circumference: 107 cm - Fly length: 24cm - Overall length: 36cm


Malo


MALO
Hip circumference: 108 cm - Fly length: 24,5cm - Overall length: 36cm


Marc


MARC
Hip circumference: 106 cm - Fly length: 29cm - Overall length: 41cm


Noah


NOAH
Hip circumference: 100 cm - Fly length: 23cm - Overall length: 34cm


Estéban


ESTEBAN
Hip circumference: 100 cm - Fly length: 25cm - Overall length: 34cm


Antoine


ANTOINE
Hip circumference: 106 cm - Fly length: 25cm - Overall length: 36cm

Simon





SOLD




SIMON




Hip circumference: 97 cm - Fly length: 22cm - Overall length: 34cm

Alexandre




SOLD


ALEXANDRE -
Hip circumference: 88 cm - Fly length: 25cm - Overall length: 37cm



Julien




SOLD




JULIEN




Hip circumference: 80 cm - Fly length: 21cm - Overall length: 32cm





Augustin




SOLD


AUGUSTIN
Hip circumference: 80 cm - Fly length: 23cm - Overall length: 35cm



Adrien




SOLD


ADRIEN
Hip circumference: 97 cm - Fly length: 29cm - Overall length: 42cm



Samuel




SOLD


SAMUEL
Hip circumference: 94 cm - Fly length: 22cm - Overall length: 33cm



Alexis




SOLD




ALEXIS


Hip circumference: 93 cm - Fly length: 25cm - Overall length: 37cm



Robin




SOLD



ROBIN
Hip circumference: 102 cm - Fly length: 26cm - Overall length: 36cm



Sacha



SOLD

SACHA
Hip circumference: 104 cm - Fly length: 24cm - Overall length: 36cm
Clément




SOLD


CLEMENT
Hip circumference: 108 cm - Fly length: 25cm - Overall length: 37cm



Arthur




SOLD


ARTHUR
Hip circumference: 108 cm - Fly length: 25cm - Overall length: 37cm
Nathan




SOLD


NATHAN
Hip circumference: 108 cm - Fly length: 25cm - Overall length: 38cm



Lucas




SOLD


LUCAS
Hip circumference: 108 cm - Fly length: 30cm - Overall length: 41cm



Liam




SOLD




LIAM




Hip circumference: 98 cm - Fly length: 26cm - Overall length: 35cm
Timéo




SOLD


TIMEO
Hip circumference: 105 cm - Fly length: 25cm - Overall length: 37cm



Valentin




SOLD


VALENTIN
Hip circumference: 106 cm - Fly length: 24cm - Overall length: 37cm
Maxence




SOLD




MAXENCE




Hip circumference: 104 cm - Fly length: 24cm - Overall length: 36cm





Maxime




SOLD


MAXIME
Hip circumference: 107 cm - Fly length: 25cm - Overall length: 38cm



Tiago




SOLD




TIAGO




Hip circumference: 104 cm - Fly length: 29cm - Overall length: 41cm





Lenny




SOLD


LENNY




Hip circumference: 101 cm - Fly length: 28cm - Overall length: 40cm
Eliott




SOLD




ELIOTT


Hip circumference: 98 cm - Fly length: 29cm - Overall length: 42cm



Marius




SOLD


MARIUS
Hip circumference: 98 cm - Fly length: 30cm - Overall length: 40cm
Victor




SOLD




VICTOR


Hip circumference: 100 cm - Fly length: 25cm - Overall length: 36cm



Léon




SOLD


LEON
Hip circumference: 102 cm - Fly length: 25cm - Overall length: 36cm


Ethan


SOLD


ETHAN
Hip circumference: 108 cm - Fly length: 30cm - Overall length: 43cm


Raphael


SOLD


RAPHAEL
Hip circumference: 106 cm - Fly length: 24cm - Overall length: 36cm


Léo


SOLD


LEO
Hip circumference: 104 cm - Fly length: 25cm - Overall length: 37cm


Théo


SOLD


THEO
Hip circumference: 104 cm - Fly length: 30cm - Overall length: 41cm


Louis


SOLD


LOUIS
Hip circumference: 106 cm - Fly length: 29cm - Overall length: 42cm


Mathis


SOLD


MATHIS
Hip circumference: 106 cm - Fly length: 24cm - Overall length: 37cm